Should I choose a tiled roof or a glass roof?
That all comes down to several factors, including how the room will be used, the direction it faces and how much money you have available. To be guaranteed a light and bright space, you can always ask for solar control glazing, one of many glazing options that will also promise to keep the space nice and warm in all weathers.
To achieve a year-round extension feel, a solid tiled roof is probably your best bet, which can be adapted to incorporate full length glass panels or Velux windows. When you do that, you get a cross between a solid and glass roof and enjoy the benefits of both.
If you have any difficulty choosing between the two options, we suggest having a conversation with a James Oliver advisor.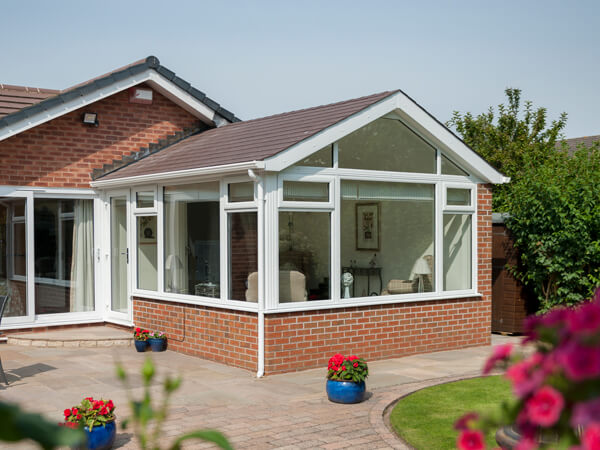 Is it worth replacing the frames?
It does make sense to upgrade any old window frames if you are getting a new replacement roof fitted as it will modernise the design and enhance its thermal efficiency. You don't want the roof to have very little effect due to the windows offering poor insulation.
A new roof really will mark the beginning of a new era for your conservatory, putting an end to the days when it was a cold and unwelcoming space. A James Oliver advisor can organise a costing for getting new energy efficient frames put in at the same time as a new roof.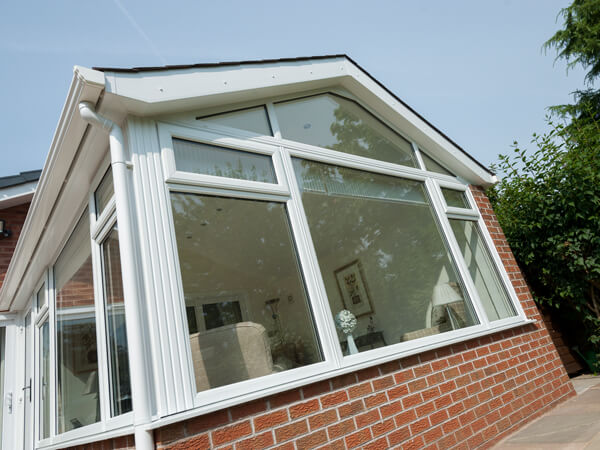 MORE COMMON QUESTIONS
Our advisors are always happy to answer any questions that you have. Some of the most common questions they're asked are answered below.
What is a replacement tiled roofs made of?
We generally prefabricate our replacement solid roof systems so that the product can be fitted quickly once it is transported to the relevant home and minimum disruption is caused there. Our roof designs are all made bespoke to suit the conservatory style.
As for what it's made of, the system consists of a pre-engineered lightweight frame, insulating panels, insulated fire-grade plasterboard and exterior grade plywood and an impenetrable membrane. We have a range of coloured tiles available, and you can also include solid panels to give the extension a natural look.
What is a Clad over roof?
Weight: Because they use heavy timber, insulation materials and tiles, clad over solutions can be too heavy for existing frames. You need a lightweight roof for old conservatories. The lightest solid roof systems weigh around 31KG/M ².
Tip: Always ask your installer for the total unit weight of the new roof per Sq.M
Fire Safety: Be advised that a clad-over system does not comply with fire safety regulations due to them not being fire tested as a complete roof structure, which they must be to satisfy these rules. The original structure varies from job to job which means that only individual components may have been tested. Solid roofs must be classified as AC, AB or AA in accordance with BS476-3.
Tip: Ask to see the fire safety certificate of the entire roof system before you commit to the project.

Building Regulations: It's very rare that a clad-over system will receive Building Regulations Approval because of its low thermal value and structural integrity. A word of warning. Building Regulations Approval is completely different from planning permission. You must notify Building Control when making any changes to a structure, such as replacing an old glass or polycarbonate conservatory roof with a solid roof, so they can determine if the new roof is structurally sound enough.
Tip: Check that local Building Control has been informed before the conversion starts. Obtain a Building Regulations 'Final' Certificate and file it in a safe place.
Will my new roof be too hot in summer and too cold in winter?
You will be pleased to know that no, it won't! Unlike a polycarbonate roof, it won't leave your conservatory feeling like a green house in hot weather and make the space unusable for a large portion of the year. It could be worth including solar control glazing in the roof to make it a true year-round extension.
Can you tell me what 'A' rated windows are?
'A' rated windows are the most energy efficient windows that you can buy in the UK, as defined by the BFRC Rating Scheme. All replacement windows are energy rated in this way and the energy rating of a window tells you whether or not it complies with current Building Regulations.
In a similar style to 'white' goods, such as fridges, freezers and washing machines, a traffic-light system is used for energy efficient windows, with them energy rated from A-E. This energy labelling enables you to identify exactly what you are buying and the standard of thermal efficiency you can expect the windows to deliver.
How much will a replacement roof cost?
That all depends on the size of the replacement roof. For a small conservatory roof, you're looking at anything from £5,000, whereas a larger roof will start from around £12,000. To help you pay for a new roof, you can always spread your payments. We have a finance calculator on our website that you can use to figure out a suitable finance package.
How long does it take to fit a new conservatory roof?
Not long at all, as it happens. Usually, a tiled solid roof can be fitted in just a few days, causing minimal disruption at your home.
Will I need planning permission to replace my current roof?
You won't need planning permission to upgrade your existing conservatory roof, but it will be mandatory to obtain Buildings Regulations Control, which you will also need proof of when selling.
Do I need Building Regulations Approval?
Being granted with Building Regulations approval from your local authority provides evidence that the fitted system has been thoroughly inspected and checked by a government approved building control officer, who has declared it structurally safe and thermally efficient. Having Building Regulations Approval will also prevent any hold-up or issues when it comes to selling your property.
Do you offer finance to help me pay for my replacement roof?
Yes. To make life easy for you, James Oliver can arrange a variety of affordable and convenient easy payment finance options (subject to application & status). Applying for finance is simple and we promise you a quick decision. Everything can be sorted out with you in the comfort of your home or at your local James Oliver Showroom, so you can enjoy whatever you've set your heart on right away.
What do we need to do when our finance is approved?
If you're arranging your own finance, you'll need to call us as soon as you get the go ahead. If you're taking up one of our offers, the company will tell us both directly, so there's no need to call as we will get in touch with you.
What happens if finance is refused?
Finance companies can turn down people for lots of reasons, for example if you've moved several times over the past few years. In these circumstances, we always do our best to help and sometimes it's worth trying another provider, especially if they know you.
I've applied for finance with James Oliver. How long will approval take?
Sometimes our finance company will say 'yes' almost immediately and on other occasions it may take them a few days. This short delay can be for any number of reasons and you should not be unduly concerned.
WHY CHOOSE JAMES OLIVER
With over 40 years of experience in transforming properties across Lincolnshire and the East Midlands, we're proud to be the region's most trusted home improvements firm.
No Pressure Sales
Our sales teamed are trained and motivated to be not only fully transparent, but to make our customers at ease with the options available to them. They won't stay any longer than they need to and won't force you into decisions that you're not comfortable with - guaranteed.
Designed For You
A really important ethos of our business is to make the customer feel comfortable with their home improvement decisions. Our experts are there to help you make great decisions from all the options available to you, whether that be shape, style, colour, material or finishes.
10 Year Guarantee
James Oliver 10 Year Guarantee offers you complete value for money and, crucially total peace of mind that your product are covered by our comprehensive guarantee. Our confidence in our products and dedication to our customers means we'll be there for you well into the future.
Exclusive Products
By choosing James Oliver to oversee your home improvement project, you'll benefit from our exclusive – and not to mention market-leading – range of products. You'll quickly discover why James Oliver offer Lincolnshire and the East Midlands' premier range of products.
OUR FINANCE CALCULATOR
See how affordable your home improvement can be with our Finance Calculator.
NEED MORE ANSWERS?
Simply fill in your details below and one of our customer advisors will get in touch to answer any of your questions.
Want to speak with an Advisor? Give us a call on 01522 525926
Our friendly team will be pleased to help with any questions you may have.