Allowing wide-open spaces and natural light to flood into your home, our range of bi-folding doors will transform how you use your home. Created to fit any sized space, with designs from two-door leaf upwards, bi-folding doors allow you to instantly change the entire dynamics of your home with just a simple push.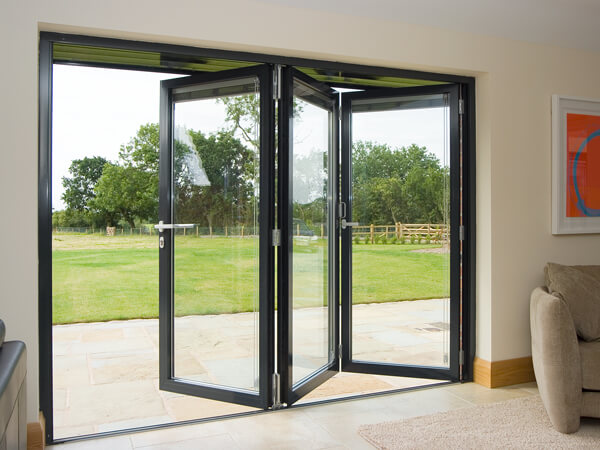 From bringing the outside into your home to creating useful new living spaces by separating existing rooms, bi-folding doors can be installed anywhere in your home, providing you with endless possibilities. Offering market-leading energy-efficiency, increased sunlight and incredible security, bi-folding doors are perhaps unrivalled in terms of the benefits they provide. As such, more and more people are choosing these doors for their home and conservatories.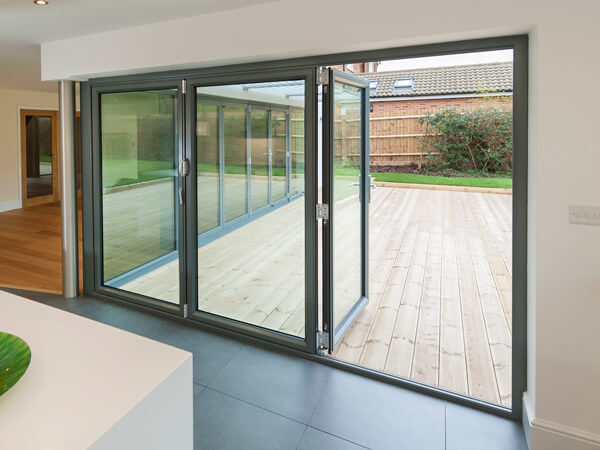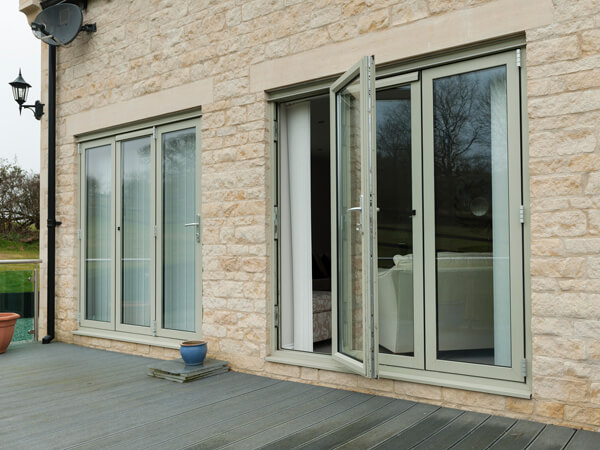 Bi-Fold Doors
You would automatically presume that moving a bi-folding door takes a fair bit of effort, but, on the contrary. These lightweight aluminium doors can be manoeuvred along the track with the gentlest of pushes.
Click on all the different hotspots to get more information about the main features of an aluminium bi-folding door.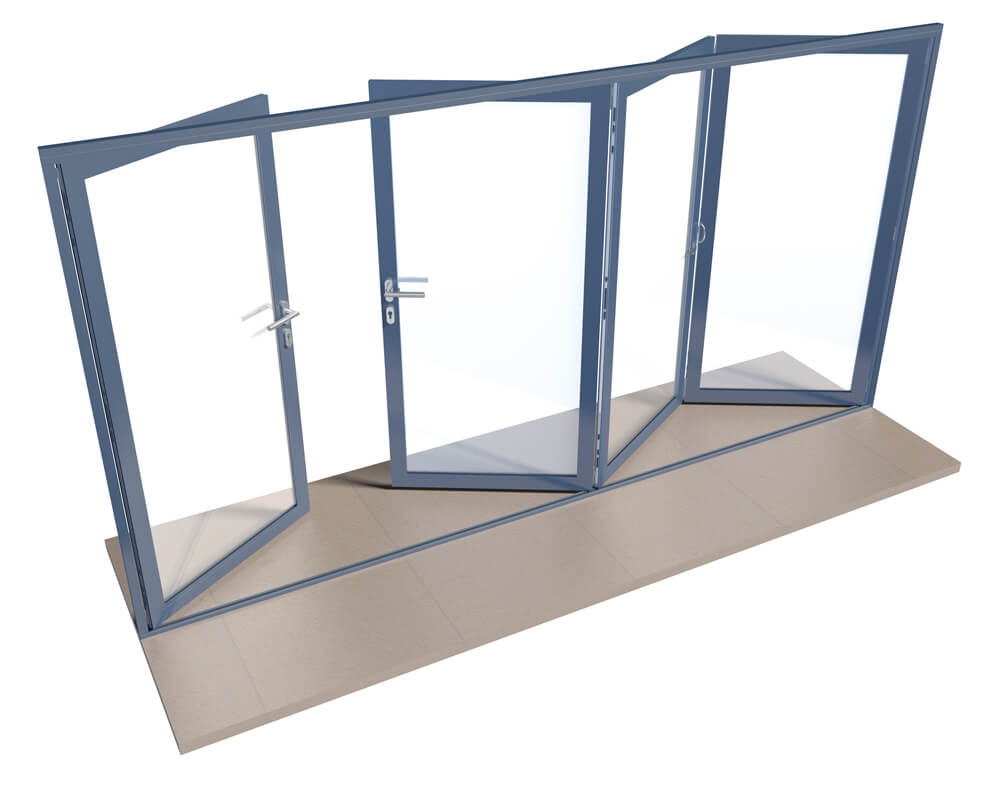 Bi-Fold Frame
Our Bi-Fold frames boast maximum warmth and security and slide effortlessly to the side to make the most of your space. You can even incorporate a discreet passenger door for everyday entry.
Bi-Fold hardware
Our Bi-Fold Door Handles come in a range of colours to suit your home, they're built to last with robust materials and quality finishes.
Bi-Fold Easy Glide System
The sliding operation of a bi-folding door relies on a high-quality stainless-steel track on which quad rollers, which are fitted to the door leafs, glide along in elegant fashion. The same quad rollers are fitted with a small brush on one end to keep the tracks free of dust and dirt.
Bi-Fold Low Threshold
Low level thresholds increase the ease of access for everyone involved. An optional outer and inner ramp can be added on to the threshold to further enhance the accessibility for wheelchair users.
Bi-folding doors aren't just smart. They're secure too...
Each of our bi-folding doors has a multi-point locking mechanism incorporated into the design that helps to keep the door securely fastened when locked. This locking system engages at numerous points, and in numerous directions, into a robust lock keep, which ensures the door sash stays firmly fixed to the door frame.
James Oliver can supply bi-folding doors with double or triple glazed units, and the glass we use is designed to be as resilient as possible to keep your home secure. The high security master handles also contain sophisticated cylinder locks, which should eliminate any chance of someone breaking in.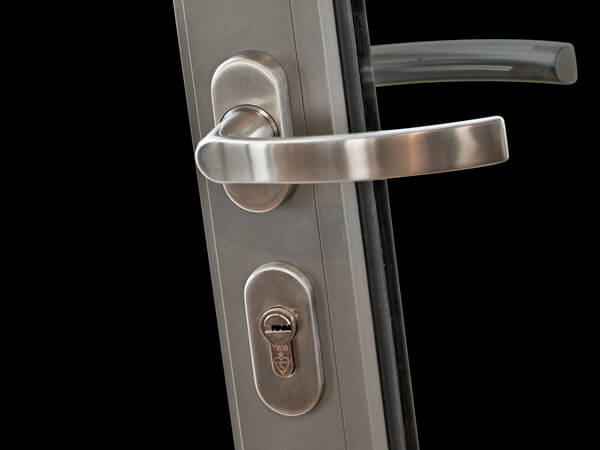 COMPLETE THE DESIGN IN STYLE
We will only begin designing and building your bi-folding doors once you have notified of what coloured finish, glazing and hardware you prefer. They are what bring the design to life.
Eclectic and extensive – the best way to describe our colour palette...
Not only do you have a chance to configure our bi-folding doors in multiple ways, but James Oliver can also finish the doors in more colours than you can imagine. We have sublimated woodgrain finishes in Walnut, Rosewood and Oak, as well as a host of powder-coated finishes in various shades. When you find it impossible choosing between two different finishes, just request a dual-coloured bi-fold to get both colours in one design.
Use the handle for the smoothest possible operation...
The configuration of your bi-folding doors will determine what form of handle we attach to the design, and there are three styles of handle available. A pass door and integrated French doors require a master handle where the cylinder lock will be housed to help the multi-point locking system engage when you close the bi-folding door.
We will also affix a D-handle and intermediate handle to each individual door section. The role of the intermediate handle is to release the folding panes from the door frame when it's being opened and to re-engage them when it's being closed. The D-handle is for pushing and pulling the entirety of the door. Our hardware range includes an array of traditional and modern master handles, which you can colour match with the intermediate and D-handles.
NEED MORE INSPIRATION? REQUEST A BROCHURE
Simply select the brochure(s) you would like to browse, fill in your details, and then click 'Download'.
Step 1 - Please select the brochure(s) you would like:
OUR FINANCE CALCULATOR
See how affordable your home improvement can be with our Finance Calculator.
INSPIRED? GET A FREE QUOTE TODAY!
Simply fill in your details for your free, no obligation quotation, and click "Get Quote"
Want to speak with an Advisor? Give us a call on 01522 525926
Our friendly team will be pleased to help with any questions you may have.